Astor and Lenox are the names that were given to the two lion statues flanking the entrance to the historic New York Public Library when it opened in 1911. Carved from pink Tennessee marble, the now-famous lion sculptures were created by E.C. Potter. Our logo is an exclusive, original drawing of one of the lions.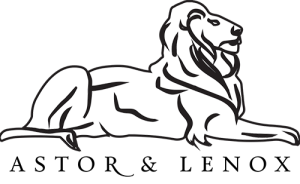 Visionary entrepreneur John Jacob Astor and reclusive bibliophile James Lenox both believed that access to books was important. In the mid-1800s, they funded two of the earliest major libraries in America, collections that were eventually combined to form the majestic New York Public Library. So that the pioneering work of these philanthropists would not be forgotten, the literary lions were named after them.
The two lions are now iconic. In my mind, they flank a portal to what was at that time a new ethos in our society. It was a profound step forward in human history to pronounce the right of access to books for everyone, and to create architecture and motifs that reflected a stunning reverence and awe of books and readers. In the United States, there just wasn't anything like the New York Public Library or what it stood for.
We are pioneering a new model for publishing that we believe will get more great books into the hands of more readers for centuries to come, just as the original Astor and Lenox pioneered a new model for access to books in their time.
We believe that books—like a symphony or ballet—are works of art for the public good and deserve patronage to encourage great work. This model allows us, as editors, to select books based on merit, not on speculation about future sales volume. So the first part of our model is this new yet very old idea of patrons of the arts getting involved with books. We call them "book angels" and our funding model "angel-funded publishing." We thank John Jacob Astor and James Lenox for being among a distinguished pantheon of the very first book angels in America and inspiring generations of readers by giving them access to the world of ideas.
On a side note, after the Great Depression–when wealthy philanthropists like Astor and Lenox were out of vogue–Mayor Fiorello La Guardia gave the lion statues the nicknames "Patience and Fortitude," which certainly could be watchwords for our endeavor, too!
[Original logo art commissioned exclusively for Astor & Lenox. Photo credit: Graham Well.]